Feedback
Testimonials from Families We Have Served
I Got the Credit!
We made the decisions; You did the work; I got the credit! Many people have said what a beautiful service it was. Thanks for your part in making it so.
Veteran's Marker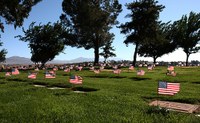 Thank you for the work you did in securing the veterans headstone marker for my Dad. I know that my mother would be proud to see his service to our country reflected in such a beautiful and visible way. I can only guess that she must have been unaware of the existence of such a beautiful expression of his Naval service at the time. Thank you for your efforts and please give my thanks to your staff for completing and submitting the necessary paperwork.
Thank You for Your Time and Care
Once again, Thank You for your time and expertise re the death of my son's father. In any relationship that has been estranged, it's so hard to know what to do. Your advice helped my son make decisions that we could live with. Thank you for your time and care.
Grandmother Trusted You
Thank you for the beautiful services that were provided to my Grandmother. I hope she feels we celebrated her life well and showed humor in dark times. Thank you for the beautiful parade along the waterfront, even a freighter passed by! Thank you for pointing out the vault of her husband and son. I never met my uncle so I made sure to say "hello" while the earth was open. Thanks for the dove release...and the comforting words you had for the children at the moment of committal. Grandmother trusted you. Our family thanks you for your professionalism and kindness. With gratitude, the family of....